category :
whatnot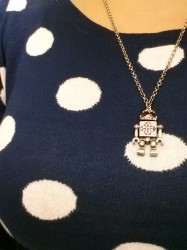 tried out the old navy sample share i got in the mail the other day, and actually had a successful day.  usually, they don't have stuff in stock or the stores are super gross. this time, they did not have the sweater i wanted — the softest sweater with fox print.
in fact, the ON closest to me pretty much has NOTHING in stock ever. it's super annoying.
anyway, i got the blue polka dot sweater, which was a long-sleeved version of the short polka dot sweater i already owned, and it is really comfy and nice.  i'm a huge fan.
my mom got a purple cable knit, which has a really flattering v-neck.  hopefully i'll find the fox print one at another store, though.  that's the one i really wanted.
i wore the sweater with a bright yellow skirt i got from modcloth.com and got lots of compliments on it, plus, it's not scratchy or itchy material like most women's sweaters from old navy, and that's a huge boon.  usually i stick to the men's sweaters ON sells because they're much more comfortable and also generally in argyle print, which is my favorite.
all in all, this was a successful endeavor.  very pleased with this sample share.
comments :
nada mucho
mine :